As We Age, WE NEED More Collagen
As we age, our natural collagen production begins to decrease, robbing us our youthful glow and causing other aging related symptoms such as:
Fine lines and wrinkles around the eye, brown and jaw
Dehydrated, textured looking skin
Elasticity loss, leading to loose, wrinkly skin
turn back the clock with timeless.
Timeless is a comprehensive collagen boosting formula designed to radically stimulate the proliferation of not just dermal collagen type I, but rather, the whole spectrum of collagen including collagen types IV, VII and XVI for increased skin firmness, and elasticity for a more youthful appearance and glow.
benefits of timeless
Smooths
& Lifts
Firms
Skin
Increases
Elasticity
Reduces
Fine Lines
how it works
When we are young, the natural collagen content in the skin is optimal and provides the elasticity, smoothness and tensile strength for taught, good looking skin. However, as we age, our natural levels of collagen degrade and diminish, leading to an older, more wrinkled appearance.
Timeless provides a collagen boost to rejuvenate the levels of collagen in the skin that have naturally declined with age. To accomplish this, we use a tailor made peptide complex that seeps into the skin, and influences significant regenerative growth of the various types of collagen responsible for good looking skin.
why it works
Our Science, your Glow
Powerful Peptides
To provide exceptional skin smoothing benefit, we've included Peptides that focus on boosting collagen type III – the "youth collagen," while other the other types of collagen peptides influence the growth of collagen types IV, VII and XVI for increased skin firmness and elasticity.
Rapid Absorption
timeless is based in a naturally biosynthesized Xanthum Gum, allowing rapid skin penetration. This leads to better results and an incredibly comfortable application with an exquisite feel.
Unrivaled Efficacy
Each ingredient in timeless is used in its most effective form, and was specifically selected for its ability to affect real results within the skin.
your best looking skin
in 3 Easy steps
1
Dispense a dime sized amount in your hand
2
Apply to the neck and face
3
Use morning and night for best results
take advantage of our 20% off launch sale
limited time introductory pricing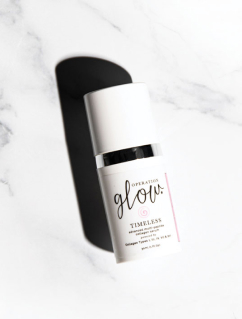 1 Bottle of Timeless
Save $11 off of retail
2 Bottles of Timeless
Save $22 off of retail
3 Bottles of Timeless
Save $33 off of retail
30 Day Money Back Guarantee
100% Secure Orders
All orders ship within 1 business day from our warehouse in eastern Pennsylvania.
Made in the USA. Shipped from the USA.
A+ quality for an A+ glow.
Cruelty Free
Zero Phthalates
Zero Parabens
Zero Toxins
Non Comedogenic
Zero Mineral Oil
Preservative Free
got questions? we got answers.
All orders ship within one business day!
This will usually depend on your location from our warehouse (eastern Pennsylvania). Most orders are received in 2-4 business days.
We stand behind our products and want you to love them as much as we do. 💙If for any reason you aren't satisfied with your products, we will happily accept your return and issue a refund within 30 calendar days of the purchase date.
We don't have samples available, but we understand that you want to give the products a try before investing in them! That's why we have a flexible return policy - take some time to give our products a try. Not in love? Just email our team (hello@operation-glow.com) within 30 days of your order date to initiate a return - no questions asked.
We offer a flat-rate $4.99 shipping charge for all US orders below $50. Orders over $50 ship free! International orders ship with a flat-rate $14.99 shipping charge.
No, we do not use animals at any point in our product testing process.
No, our products do not contain parabens.
Our entire product line is safe for pregnant or nursing women to use. However, always check with your doctor before using any new products while pregnant or nursing.
Are you a social media influencer and want to collaborate with us? Please contact hello@operation-glow.com and include your social media handles, information, and how you would like to collaborate!